Thursday, January 10th, 2008
Brenda and I left 32169 in El Paso on our holiday trip because of delays in getting a fuel cap to replace our leaky one. Today I brought her home.
I dwell too much on not making a trip (I'm working hard not to come right out and say failure), as all pilots do, so this holiday trip left a bad taste in my mouth. It's easy to remember the few problems of the trip, rather than all the fun.
This morning I was at El Paso International bright and early to head home.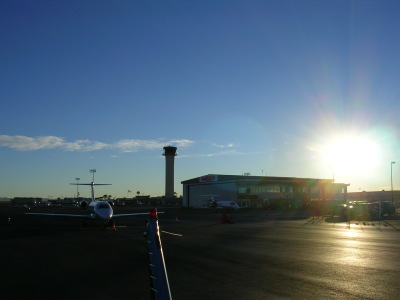 In my sad little head, I was thinking "limp home," but really everything went fantastically well. The plane was raring to go – that new magneto really makes starts smooth – and the weather was great throughout the day. The only sad thing was my empty co-pilot seat.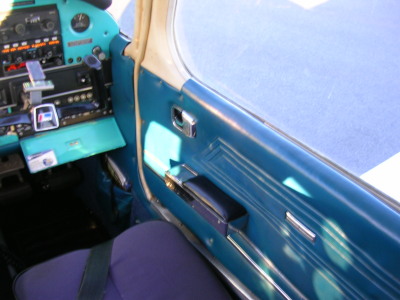 The first leg to Phoenix Goodyear was marked primarily by stiff headwinds. I kept an eye on the progress with choices in mind in case we couldn't make the full leg, but we continued to stay within my conservative estimates. It was still almost a 4 hour leg.
Along the way I found myself wanting to get a better idea of our average speed. The GPS provides an instantaneous ground speed sample and an estimated arrival time based on it, but there was enough fluctuation that I didn't want to subconsciously plan for the best time I'd seen. There may well be a way to get the GNS 430 to use a longer time to calculate its ground spped for me directly, but I used my cardboard E6B. It was cool to see I could still do a time-distance problem given how much I lean on the electronics.
The stop at Goodyear was pretty short, but I did get to see this replica mustang: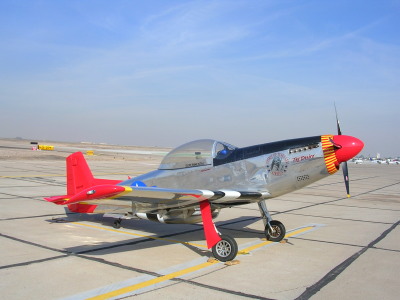 and Goodyear has this mysterious boneyard of old transport aircraft: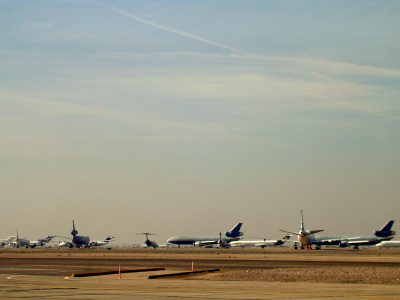 They cheerfully popped some gas into the plane and off we went for home. The trip to Santa Monica (SMO) was really uneventful. Well, no flight is really uneventful; I saw a pair of F-16s in flight, was alternately eagle-eyed and blind in spotting traffic. Even the winds slowed down. And flying the last leg for home from a long way is always exciting.
Landing at SMO was hampered by low visibility caused by mist in the afternoon sun. Since SMO is my home field, that was more an annoyance than anything else. I'm pretty good at safely winding my way back there.
When's the next trip?