I took a new guy at ISI, John Hickey, flying this week, because he was vaguely interested and I love to take people up. Another good thing is that when I take new people up something fun usually happens. This trip was no exception.
On departure we got ordered on and then off the runway as things got tight and then an IFR release came through. Not a problem for me, but it wasn't the kind of smooth, orderly operations that you like to show a new GA passenger. John took it all in stride, but it wouldn't have been fun for a nervous flyer, I expect.
It was a clear day, but pretty hazy in the basin itself. We took my usual tour of the basin, down towards Torrance and Long Beach, up past Anaheim and Fullerton, out as far as Chino and then back past Santa Monica. We did get to pick out a few sights through the haze – I'm grousing more than I should, the view was pretty good – and then headed out to Camarillo.
Camarillo's usually a good choice for new flyers who like airplanes. The airport has such an active pilot community with so many experimentals and a strong CAF presence that there's usually something interesting to see. Boy did they not disappoint today. Just getting in things were busy enough that I had to fly a modified entry – basically an overhead entry for beginners – while a flight of Lancairs departed. But the ramp was the real treat.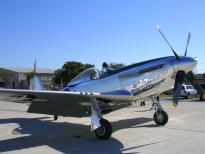 It's not every day you come across a mirror-polished P-51 Mustang sitting on the flight line, even at CMA. I don't really know where the pilot was coming from or going to, but he was going in that brilliant piece of aviation art. We spend more than a couple minutes gawking at it and taking pictures. Times like these I'm happy that I carry a camera in my flight bag!
After lunch we cruised over to the CAF hangar and had the run of the place for $5. Not to be outdone, the CAF had a spectacularly restored Corsair on the ramp that another transient pilot had parked there while he did whatever brought him to Camarillo. We got to both get a close up view of the Corsair and to hear the restoration folks chat about the details of the restoration. I never tire of hearing skilled restorers pick over a beautiful plane like this one.
The trip back was pretty boring, though we did get a nice view of the Getty Villa. If John attracts planes like that I'll have to drag him around more often.