It looks like Brenda and I will be flying East this year for the holidays, which means I'll be finding extra excuses to go out flying this month.  Today's excuse was a trip out to Corona, a small uncontrolled field out near Chino and Ontario.  Corona strikes me as a good community airfield and it's usually a good trip, though it does get busy there.
The flight out through the LAX special flight rules corridor was pretty uneventful.  The Inland Empire had some haze in place, but nothing too bad.  I heard some people land at Corona ahead of me, but as I came in, I had the pattern to myself.
I tied down and moseyed over toward the restaurant, and spotted this cool Ercoupe on the way.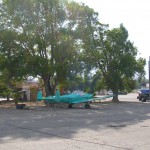 There are so many cool Ercoupes running around these days that there must be some kind of Ercoupe hot rodder's club or something.
Anyway, I like Corona because it's the kind of little field where you can see the planes along the town's roads near the airport.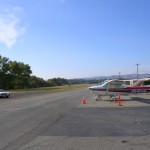 Of all the things at Corona that I liked in the past, the restaurant made the least impression on me.  It was fine, but I don't remember it fondly.  And now I'll have to remember it. A new place has opened up in the old restaurant's place, called Bobby A's.  I talked briefly with Bobby when I was there and he says he's only been open since mid-September.  He should stay open for a while – the food is good and priced reasonably and the place feels like it's run by people who care.  It's pretty much a 50's diner, but there were vegetarian options, and the breakfasts looked good.  I'll definitely be back.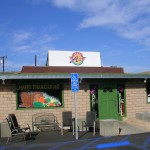 On the way out I passed this little vehicle outside the airport security office.  I don't think I'd mess with a security guard riding it.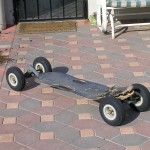 As I walked up to the place to move on, I saw this gorgeous Stearman running up and departing.  Boy do I love the old biplanes.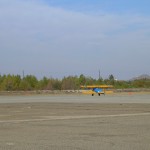 As I was getting untied and ready to go, I'm pretty sure I saw two planes almost meet in the middle.  A Cessna was in the pattern doing touch and goes arriving behind me and going into the wind.  I saw him land and heard an engine run up, which I assumed was the Cessna following through.  I looked up, though and saw an airplane that was coming toward me and turning right to the downwind. Then I saw the Cessna follow through.
I'm pretty sure they were headed right at each other, though they were never very close.
Not a good thing.
Anyway, I cruised over to Chino and got some landing practice in.  I was going to do a few at Corona, but honestly the pattern was pretty busy, and though some people were ignoring it, there was a sign saying no touch-and-goes on the weekends.  I try to be a good neighbor, so I flew the 2 miles over to Chino.
After a few trips around the patch, I filed an instrument flight plan back to Santa Monica just for the chance to drill procedures and practice working in the system.  The trip back went very well.
I'm looking forward to a few more before the big trip in December.