My parents took a cruise on the Columbia River in August 2008 and invited us up to spend a couple days with them in Portland. Portland's not really right next door, but it is fun to see the folks and take a flight up, so we did. This is my trip report from a pilot's perspective, though, surprisingly, as I put this together, there's no accompanying blog from Brenda. She did take all the pictures in the album.
Day 1
Santa Monica, CA (SMO) to Willows, CA (WLW)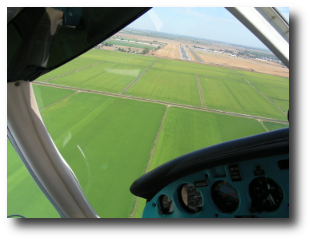 Our first leg of the day was a longish hop up to Willows, CA. I picked Willows because I hadn't been there before and I'd gotten a rave review of the restaurant there from a fellow pilot. Given that the basic flight planning needs are met, I'm a sucker for a new airport.
Operationally this was a pretty simple flight up. There were a couple TFRs – as I recall Beale AFB had something going on that day – but a nice VFR day.
Brenda had recently bought a GPS for the car, and she had some fun trying to confuse it by turning it on in flight. Trying to stick the airplane to roads at 110 knots wasn't working particularly well for it.
The fields near Willows were suprisingly, surrealistically green. I often tweak pictures for the web to get a nicer color balance or eliminate mist, but the picture turning final to Willows isn't touched up. If anything it slightly underestimates how green the fields looked.
Nancy's Airport Café was definitely a great choice. The place was clearly an area landmark and hangout, and the food plentiful, tasty, and inexpensive. The people working there seemed to know all the locals' names, and were cheerful to the several transient pilots as well. Excellent airport café.
Willows, CA (WLW) to Hillsboro, OR (HIO)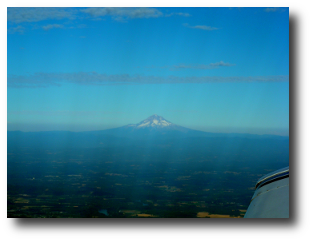 This was a really great day to fly. The trip up from Willows to Portland was clear and smooth. The route features the spectacular mountains of the Pacific Northwest. We passed close to Mount Shasta and then had a beautiful view of Mount Hood. There really wasn't much to do but keep the plane pointed the correct direction and monitor the systems. So I did.
Hillsboro Airport itself was hopping. The tower was very busy, and seemed to be a little behind the game. I think it may have been a new controller, who didn't completely assert control on the frequency, but that may have just been my impression. The ground controllers at HIO have been excellent and very helpful both times I've flown in there.
After a little snafu getting our rental car sorted out, we were on our way to beautiful Portland.
Hanging out in Portland
It's always great fun to hang out with my parents or with Brenda and spending time with both is great fun. We saw several gardens, the local fabric scene, some minor league baseball, and several interesting restaurants. You can see a smattering of what we found in the album.
After way too short a visit, it was time to head home.
Day 2
Troutdale, OR (TTD) to Medford, OR (MFR)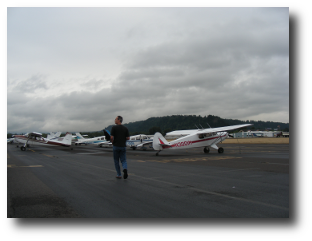 First of all, how'd we get to Troutdale? Logistics of dumping the rental car that we were sharing with my folks were easier if we moved on over to Troutdale. Brenda drove me over to Hillsboro the morning before we picked my folks up and picked me up from Troutdale. It was a half-hour, low-level hop across Portland's Class C, and a pretty morning flight.
A rain system was just moving out of the Northwest on our departure day, so some amount of weather watching and planning was needed. I filed and IFR flight plan, though most of our flying was in VMC.
There was runway construction at TTD, on top of everything else, but plenty of remaining runway to operate from. We took off and were quickly directed on course. In this case, on course proceeded through RAWER intersection, which delighted Brenda when I wrote it down.
We mostly flew above the clouds, but wound up shooting some of an approach to get under the patchy layer at Medford. This was an interesting leg, and I was happy to be getting out toward better weather.
Medford, OR (MFR) to Sacramento, CA (SAC)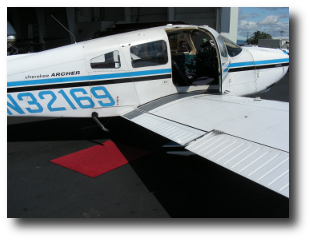 Medford Air Service is the excellent FBO in Medford. They're always great to us, even though we're usually through there quickly. Brenda loves the literal red carpet treatment we get coming through there.
This was another IFR leg as some clouds were hanging around near Medford. A combination of the tighter fuel restrictions on IFR flying and some headwinds resulted in 3 shorter legs home rather than the 2 we had coming out. Departure and climbout were fine, with a little actual time, and we settled in to cross the mountains into northern California.
Brenda settled in to nap, and I settled in to deal with the turbulence and wind over the Trinity Alps. The mountains are high enough that the winds ripping over them can really create some serious mountain waves. These can cause pretty powerful up and down drafts.
We definitely saw some pretty good drafts. Nothing that made me bust an altitude, but frequently enough to test my engine performance. There was one sharply defined wave that gave us a good jolt of turbulence at the bottom as well. It kind of turns flying into plodding, but it could have been worse.
Once we were out of the Alps, things settled down and we descended out of the worst of the wind to make better time. We got into Sacramento on schedule.
Sacramento, CA (SAC) to Santa Monica, CA (SMO)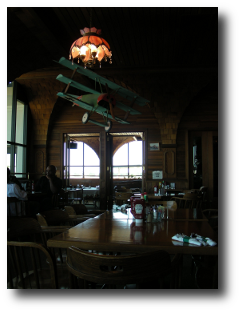 Last time we came through Sacramento, the restaurant was both intriguing and closed. This time we were able to arrive before it closed and try it out. The food was good and the decor was really interesting. This was laid out like a restaurant and lounge rather than a little café, presumably when Sacramento Executive was the capital's main airport. Definitely worth a stop.
The flight itself was very relaxed. We'd left the bad weather behind to the north, and all that was left was bucking the winds home. Even those abated the further south we got.
We landed at SMO with full bellies, content after another fun trip.