The Trip Out
Santa Monica (SMO) to Redding (RDD)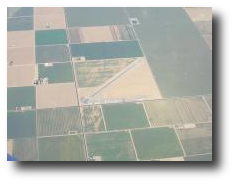 ACM Sigcomm 2004 was in Portland this year, and I was attending for work, which gave me a fine excuse to spend the day flying up in style. An early start found SMO with a thin layer of clouds a few thousand feet up, but otherwise a great day for flying. A quick IFR clearance to climb on top, and I was on my way to beautiful Redding California.
There was good weather throughout the central valley, and even a good tailwind. I'd recently bought a 40GB MP3 player from iriver that I had hooked into my intercom and loaded with music, so it was a fun flight picking out landmarks to the tunes.
Last time I'd come up this way, I'd done the trip in 3 legs, but between having a better idea of how 32169 burned fuel and the good tailwind, I decided to try to stretch and do it in 2 legs. The other reason to aim for Redding was to check out Peter Chu's Skyroom Restaurant and Lounge on the field. How can you not want to check out a restaurant with that name?
Things worked out well, and I was at RDD in 3.7 flight hours. I did have to go around once, as the plane I was following took a little more time on the runway than I was expecting.
On the ground in Redding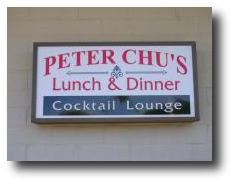 The good news is that Peter Chu's was a great deal. The food was excellent, dirt cheap and plentiful. The lunch special was a huge plate of very good Chinese food, a big plate of appetizers, including some egg rolls and crab stuffed won tons, and tea for under $7.00. The service was excellent, and the restaurant clean and pleasant, and it overlooks the runway through panoramic windows. If you like Chinese food and are anywhere near Redding, I heartily recommend Peter Chu's.
Unfortunately, my stay in Redding wasn't quite over. On run-up, I discovered my left magneto wouldn't check clean, no matter how I tried to clear it. It was Sunday, so I wasn't excited about my prospects for getting a mechanic to look at it, but I didn't really want to find out in the air that it was more serious than a cranky plug.
The ground controller pointed me at Redding Jet Center's unicom, suggesting that they might have a mechanic around. I taxied over and had a phone consultation with their mechanic, tried a few ideas he had over the phone, and ran out of luck. Their mechanic was kind enough to drag himself over to the field on a Sunday and have a look.
After spending a few minutes getting more details and firing up the spark plug tester, he found one of the left plugs wasn't firing at all. He did have a replacement on hand and was able to get me going in fairly short order.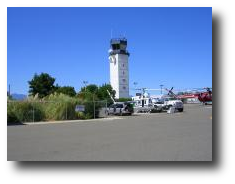 Once again, it's hard to say too many nice things about the folks at Redding Jet Center. I'm certain that it was an enormous pain for the mechanic to come out and take care of me, not to mention me watching curiously while he debugged the problem. And it's not cool and pleasant in Redding in early September - it was a good 100° F. Through it all everyone at Redding Jet Center was friendly and professional. There was a call-out fee, but that's to be expected, and I felt that the bill for getting me on my way was perfectly reasonable. Good people. If you're in Redding, stop by and buy some gas.
Redding (RDD) to Hillsboro (HIO)
It's not much fun to be far from home and far from your destination without a working plane. As nice as everyone was in Redding, had been to me, I was very happy to have a working engine and to be en route again to my destination in Portland. I was a few hours behind, but with a tailwind and my early start, it was not going to be hard to get to Portland at a reasonable hour.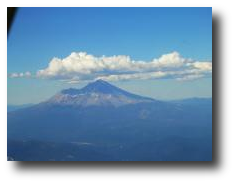 I've flown up past Mount Shasta, the Trinity Alps and these mountains a few times, and it's always a beautiful flight. There were come clouds above me around 10,000' or higher, but it was good VFR the whole way. Mount Shasta was spectacular as always, generating it's own fleecy cap of clouds to keep the sun off. A beautiful area of the world.
Past the range, the Cascades form up on the East and the broad valley that Eugene, Salem and Portland sit in appears. The Cascades are close enough that the view remains spectacular from the air, but the flying is somewhat easier and thoughts of an emergency landing make one less jittery with more fields and fewer faces to contend with.
I was tired and happy to see Hillsboro appear to the north and settle in to the pattern. As I came in I heard a student enter the pattern for her first solo. I tried to be on my best behavior for landing to show her how easy it was.
The folks at Hillsboro were particularly helpful to me as a transient. They gave me a progressive taxi to the temporary long-term transient parking and directions to the train station to go into town. And, via my handheld, I received a clearance to walk across a runway to get to the exit gate. This was very cool in an aviation geeky kind of way, and I'm very sad that I did not get a picture of the runway on foot, but it slipped my mind.
A Short Hop
Hillsboro (HIO) to Boeing Field, Seattle (BFI)
After the conference, I popped up to Seattle to see Jim Geldmacher, Steve Lawrenz and his lovely wife Jenni. The flight was pretty straightforward. A thin layer of clouds was present near HIO, so I filed IFR to avoid any problems in the unfamiliar airspace. The climbout and trip up were pretty uneventful, though.
Arrival was pretty interesting, though, sandwiched in between an arriving jet and a seaplane and classic aircraft on the other runway, there was plenty to see and do.
Dinner was great, and it was wonderful to see all concerned again. Steve and Jenni were kind enough to put me up at their lovely home, and I got a great sleep to get me ready for the trip back.
The Long Way Home
Boeing Field (BFI) to Medford, OR (MFR)
Seattle was overcast on Saturday for my flight back home when Steve dropped me off in the morning. An IFR clearance was prudent and I took it. The weather service was predicting overcast skies through the northern part of Oregon, and they were correct. Climbout was straightforward and the trip was a pleasant smooth flight on top.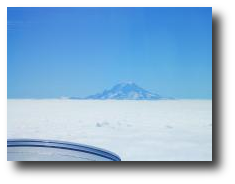 The Cascades are big mountains, and nothing brings that home like seeing Mount Rainier poke up through a 6,000' overcast like it isn't there. I mean I know that clouds don't impede mountains, but to see a mountain with its bottom 6,000' obscured that's still as big as Mount Rainier is a humbling thing. It's the sort of thing that makes you want to see if you can get the "Mountains" in "Appalachian Mountains" downgraded to something less impressive. It's a whole other league here.
The other excitement of this leg was looking down after an hour or so in flight and seeing a 0 discharge coming from the alternator. This is not good as it means that the engine is no longer recharging the battery that all those avionics are draining. And the scary thing is that you don't know how long its been out. (Well, I do now - after this I have a regular schedule of looking).
In any case, step one is to plan for a diversion if the power goes out, shutdown unnecessary power drains (I would have thrown the ADF overboard if it were legal) and then try resetting the alternator breaker. Fortunately for me, reseting the breaker restored the alternator, so I didn't actually have to divert and hope for another mechanic to appear on the weekend to help me out. Once was quite enough, thanks.
Needless to say, I've kept a tight watch on the alternator since, and never seen it hiccup. I don't know what caused the breaker to pop on the way out of Seattle, but I'm glad I caught it, and glad it hasn't happened again. I blame the ADF, which I also haven't turned back on.
After my ammeter output went back down to normal (indicating it had recharged my battery) along with my blood pressure, the rest of the flight to Medford was uneventful.
In Medford, I stopped at the excellent Medford Air Service. They're always friendly and cheerful, gas is reasonable, and the facilities excellent. It's always a joy to stop there. If you're in the area, they're another excellent operation.
Medford, OR (MFR) to Porterville, CA (PTV)
This leg was originally planned to Sacramento, but in the air with a good tailwind, Fresno began to look better, and finally Porterville was the lucky winner.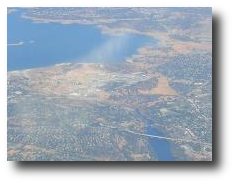 This leg treated me to another trip past Mount Shasta and through much of the central valley. The valley was completely clear this time, though there was a bit of turbulence from the strong tailwind. As I wound my way through the central valley, I turned more toward the center of the valley to avoid the drafts near the edges caused by the mountains.
I wound up overflying Sacramento and passing a landmark of interest to Johnny Cash fans: Folsom Prison. It's not much to look at from the air, but it's kind of neat to pass the place that, in some incarnation, inspired such a good song. Staying out of there's always good advice, though.
Settling into Porterville meant that I was back close to familiar airspace and almost home.
Porterville, CA (PTV) to Santa Monica (SMO)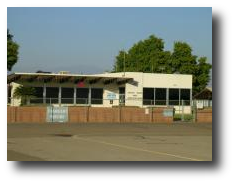 Porterville's got a decent restaurant and a little park adjacent to the runway which makes a nice community gathering place. When I blew through there, there was a wedding going on, which was a great thing to see. It's always fun to see a community using airport property. In any case, it was good to see the folks out.
The leg was a nice easy way to wind down a good week of flying and work. The airspace is very familiar and the conditions were nice enough to make the flight in good VFR conditions. It was nice to get home.
Enjoy the pictures.