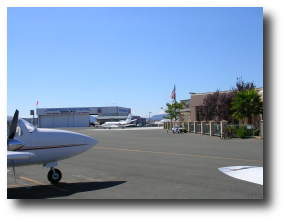 Brenda was away knitting today, so I went out to one of my favorite little airports, French Valley (F70). It's a cozy little airport serving Temecula and Murietta, inland and north of San Diego. This is a warm, dry valley surrounded east and west by mountains, little 5000 footers to the east and 10,000 plus to the west.
The flight out was fun and fairly easy. It was clear, but very hazy throughout the basin, which made navigation a little hairy. I was having a pilotage day, so I'd turned off the moving map and was poking along by visual references.
French Valley was hopping as it often is on the weekends. It's a busy field, but I've never had problems with unicom road rage or anything like that here. The pilots in the pattern are as friendly as the folks on the ground. I pulled in and stopped in to the restaurant for lunch. The restaurant is tasty café fare, sandwiches and breakfasts. I haven't been there for dinner. The food is good and the prices fair. The people are uniformly very friendly.
Today there was a gregarious German fellow in the restaurant, and we struck up a conversation over lunch. We talked pilot stuff - compared airports and airplanes, gawked at other planes on the ramp and stuff like that. He was fun and friendly.
There was a classic Travel Aire biplane giving rides, too. I'm a sucker for old biplanes.
I'd thought about going over to Hemet-Ryan (HMT) and getting a few landings in, but the local EAA and Ninety-Nines seemed to be having a poker run over the area, so Hemet was pretty crowded. I learned what a poker run was - I thought it was a trip to play poker, but it's a round robin trip to various airports where you pick up a card at each. I'll have to get in on one in the near future.
In any case, rather than clog up the pattern at Hemet, I flew back to SMO and made a nice landing. A good fun afternoon.
I took a few pictures.