This is the story of the trip Brenda and I took to Columbia over Memorial Day. Even though it was a flying trip, there was only a farily short flight followed by several days in California Gold Country. We had a gret time, but I'm writing this up several months after the fact, so the details are a little hazy.
There are more pictures in the album.
Santa Monica (SMO) to Columbia (O22)
There were low clouds over SMO when we set out, so we departed IFR, but like many IFR departures from SMO, this one was just to climb through the marine layer and then we were VFR the rest of the way.
The flight itself was routine and fun, a straight trip up the Central Valley and into the foothills of the real mountains out here. We got an early start to have lunch in Columbia, and Brenda slept for some of the trip.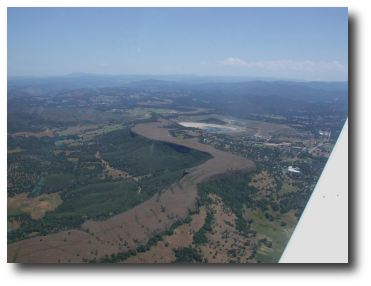 On the way out Brenda spotted a remarkable geological feature, the Stanislaus Table Mountain. We discovered later in the weekend that this is a river cut out of soft rock that filled up with lava sometime in the past. When the area was mined, the mountain was literally eroded down to this square bed of hard lava. It's a remarkable sight.
My arrival would have been smoother if I'd spotted the airport sooner, but we eventually found it and got in and settled. Columbia's airport is a great small airport, complete with seats reserved for airport bums and several active vintage aircraft on the field. I convinced Brenda to take some pictures of them.
We left the plane at Columbia airport and spent the next few days enjoying the beautiful area. Along the way we spent time at the Columbia State Park - a restored Gold Town with the excellent LickSkillet Café, the Railtown steam rail museum in Jamestown, a cheese factory (and petting zoo) in Oakdale, and several other small towns and little restaurants in the area. I know that doesn't do the area justice at all, but it has been a while since we were there, and there's plenty more we could see. Do take a look at the pictures for a taste of what's up there. The area is a fine place to get away to for a few days.
Columbia (O22) to Santa Monica (SMO)
Other than running into two people I knew on the radio, the trip back was pretty and straightforward. IFR because of bad reported weather, but no actual time in the clouds.