In December 2007, Brenda and I once again set out for Asheville, NC to see my folks for the holidays and to see her brother and his family in Frisco, TX. You can follow Brenda's detailed account of our trip to find out all about the non-aviation-related fun we had and to see more pictures. This is my pilot's-eye view of the trip.
This trip marked several firsts in our cross-country trips. We encountered our first airframe ice, our first lengthy mechanical delay, and finally this is the first trip that we didn't complete the first time. That's a little sad, but really 3 trips to the East Coast and back in an Archer without having to resort to scheduled airline travel is pretty good.
Brenda took a bunch of pictures, some of which I put into an album. The thumbnails for each leg are taken from that album and are links to the medium-sized pictures.
Day 1
Santa Monica, CA (SMO) to Mesa, AZ (IWA)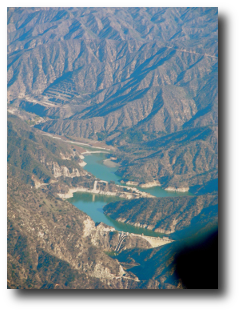 As we set out this year, one of our prime concerns was mechanical. I'd been having a problem reliably starting the engine, which my mechanic had tracked down and taken a shot at fixing basically the night before we set out. So there was some possibility that the we'd never get going, or that the engine would not start at some intermediate point and we'd be stuck. Not to spoil the suspense or anything, but that didn't happen. The engine consistently fired up almost immediately when asked throughout the trip.
Once the excitement of starting the engine wore off, we settled into a smooth trip out to the former Williams Gateway Airport, now rechristened the Phoenix-Mesa Gateway Airport. Brenda had been up late getting ready for the trip, so she spent some of this leg catching up on her napping.
Overall a (comparatively) smooth trip out to Gateway. As we came in the controllers were busy helping out a Canadian fellow in an experimental that really hadn't prepared to transit the Phoenix Class B at all. Things went smoothly for us though, and we got refueled and ready for the next leg.
Mesa, AZ (IWA) to El Paso, TX (ELP)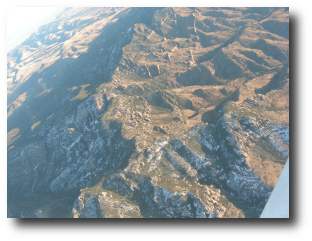 We'd gotten a late start out of Santa Monica while the mechanics put the final touches on the magneto replacement that fixed the starting problem. Accordingly, this was a snack and fuel stop rather than a full meal stop. We quickly turned around and were off to El Paso under IFR. The weather was gorgeous, but when night flying over the deserts of Arizona and New Mexico I like to have all the ATC help I can get.
I always like this part of the trip. The mountains and high desert of western Arizona give way to the larger more wasteland like parts of New Mexico right about as the light disappears. It is most definitely wide open spaces, and you can keep yourself quite occupied thinking about what might go wrong and what you'd do about it.
As the sun went down we were treated to a full moon in a clear sky. Brenda tried to get some pictures of it, but it didn't work out as well as she'd hoped. The approach into El Paso was a visual and didn't have any of the black hole potential we'd seen last year. The PAPI was working again.
It's a little weird to think of a routine in El Paso, a city we've stopped in only a couple times, but we tried a new restaurant this time. It was a little Italian place up the street from the row of more chain restaurants we often find ourselves in. We've kind of settled on the Village Inn there as being the best of the available choices; Brenda thinks that their Mexican food is much better than their chain restaurant roots would have you believe. I always forget this and order something else and am jealous when her food gets there.
Anyway, we broke that routine and headed up the street to an Italian place that had OK food and a pretty fun atmosphere. It was unique, all right. We enjoyed our meal, including the fellow at the table next to ours who was trying to loudly impress his date, but probably won't be back. Still well worth shaking up our ritual.
Day 2
El Paso, TX (ELP) to Abilene, TX (ABI)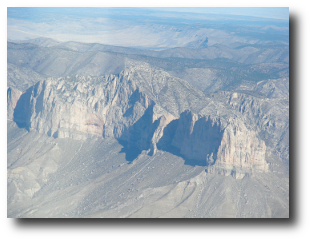 This was a fun leg. Up early and off to Abilene and then on to Greg and the family in Dallas.
We were VFR to Abilene, and got a cool take-off clearance – keep it tight on your downwind departure. I made a nice tight turn out that got a "thanks" from the tower that was pretty nice. It was a fun little piloting challenge to start the day with.
The rest of the trip was pretty uneventful. Brenda knit and we looked at all the oil fields and other desolation of West Texas. It is a beautiful kind of desolation, but there's a lot of room between cities and a those cities aren't huge.
We'd had excellent luck with barbecue in Abilene before, but we decided to look for something new. We wound up at a place called Abuelo's that was pretty good and interesting to boot. Brenda talked about it in more detail in her blog.
Abilene, TX (ABI) to McKinney, TX (TKI)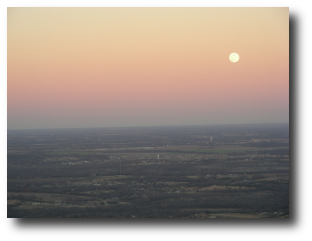 With the days getting short and the nights long we were due to finish this leg as the sun set, so I filed. The weather was clear, and Dallas has lots of airports, but it's just as easy to have the help in the busy airspace.
We were served up a pretty sunset on the way to Dallas, along with an IFR re-route, but one I was prepared for, so it wasn't much hassle. I know there are two published arrival procedures, for my kind of airplane, and I guessed wrong which one they were using. But because I've been there before, I had both plates accessible.
Other than that, there wasn't much to this leg. Bucking Texas tradition, there wasn't even a crosswind on landing.
We spent a few days here in Frisco with Brenda's lovely family. She kept a great blog of the days, and I won't try to add to it. Spending time with kids at Christmas is always fun, and I like seeing Greg and the family as well.
Day 3
McKinney, TX (TKI) to Little Rock, AK (LIT) Greenville, TX (GVT)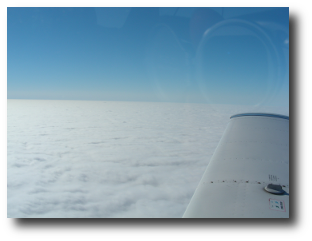 Those of you following along with sectional in hand are probably wondering what went on with this leg. Obviously there was a diversion, but there's a long story with it.
In Frisco I decided I'd like to try a northerly route to Asheville rather than the route through Mississippi that I'd originally considered. Accordingly I planned to head up to Little Rock and then on east. Snag number one: when I bought up charts for the trip I'd neglected to get approach plates for Arkansas. Well, rats. Enter the Internet; I went online and printed plates for my planned destination and my alternate, and hoped to pick up the full book of plates at the FBO. No such luck.
At this point I have 1500' ceilings for much of the route with Little Rock reporting lower (200') but forecast to clear and my alternate currently reporting 1000' ceilings and forecast to improve. I'd like the extra breathing room of the rest of the Arkansas plates, but this seems perfectly flyable. If worst comes to worst, I have plates for this part of Texas and for points south and east.
So we load up, run up, get the ATIS and get our clearance. IFR is basically a must for this kind of day. We shove off and they hand us to departures, who inform us that the last couple planes have reported ice on climb-out, near the tops. I should note that no icing was forecast anywhere near here.
"Ice" is a word that gets my attention. It's probably the biggest danger to my class of airplane, other than maybe a big thunderstorm. So, one minute into the flight and I've got to decide whether to continue. The controller didn't issue a screaming warning, and the aircraft had successfully climbed out. Others were also doing so. If things got disastrous, I knew the air down where we were now was clear, and there wasn't high terrain in the area. I had a reasonable, fresh assessment of the danger and an out if it was worse than expected. So continue was the plan. I did let Brenda know we'd probably see some ice on the way up.
Into the clouds, Brenda's watching for ice and whoo! there it is, collecting on the leading edges and temperature probe. No loss of airspeed or anything, and really not enough collected to be noticeable at all before we popped out the top and began melting. Trace amounts on the plane, but we clearly didn't want to be dawdling near the tops. ATC wasn't leaving anyone in there either.
So, overall I think this was a good decision, but it was useful to see how fast ice can accumulate. Brenda was also impressed.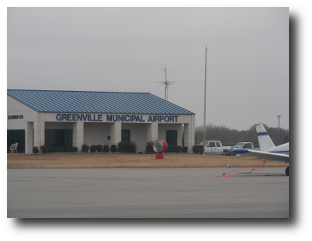 On to Little Rock. I'm usually good about checking the weather en route when I'm IFR, and with my destination options limited, I was basically anal about it. Good thing, too. On my first check, the weather wasn't improving (and worsening at my alternate) and I set a deadline by which I'd divert and picked an airport – Greenville Majors back in Texas. On the second check, not only had it not improved, my alternate was 100' overcast - too low for the ILS there. So I diverted. I was even asked for a reason by ATC, which surprised me, but "my destination looks bad an my alternate's gone south" seemed to placate them.
I'd picked Majors because it was towered and I should be able to lay in fuel (and maybe new charts) and get back on the way. Apparently in Texas, one can close the tower for the holidays without so much as issuing a NOTAM. While this didn't make me terribly excited about the prospects of an open FBO, getting on the ground to plan my next move was well worth it.
Backtracking to Majors had put us back close to the area we'd encountered ice in before, so I was keeping an eye out. We still had more than 1000' below the clouds clear of ice if we needed it. If things started accumulating we could execute an emergency descent under the clouds. Fortunately, though we were in the clouds for a little while and did get a touch of accumulation, the approach and landing went well.
Better still the FBO was open, full of friendly, helpful people, and had charts to boot. We gassed up, filed a new plan for our amended next leg and set back out.
Greenville, TX (GVT) to Greenwood, MS (GWO)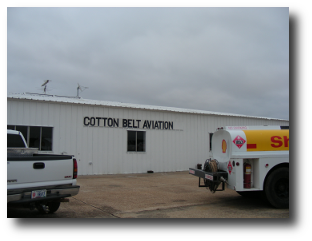 This leg was comparatively easy. Greenwood was reporting and forecast to have a 1500' ceiling or so, but with the ILS there this wasn't much of a worry. And armed with all the plates for Arkansas, there were more options. Realistically, few of those options were in Arkansas, but it was something of a morale boost.
With the tower closed, we had to pick up our clearance over the phone from the flight service station. Another choice was to climb high enough to reach the approach controllers on the radio, but while 1000' feet is attractive compared to icing, it's much less so compared to cell phone.
Once off, we settled into a smooth flight above the clouds with a decent tail wind. No ice at all on the climb out, which was another nice change. After 2 hours or so, we shot a smooth ILS into Greenwood and pulled into Cotton Belt Aviation.
Nice folks here got us gassed up and back on our way. They have remarkable taste in decor, and were helpful and friendly.
I'll tell you, as a rule, towered airports in Mississippi have been very good to us.
Greenwood, MS (GWO) to Asheville, NC (AVL)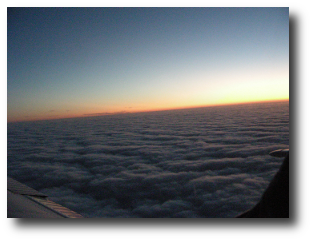 We had a good 25 knots of tail wind, and I was feeling pretty alert despite the difficult first leg of the day, so we decided to try to reach our final destination. Weather was good and improving the closer we got to Asheville, and more airports were available the further east we went, which were also good signs.
Departure and the trip were very smooth. We even managed to talk Atlanta Center into a shortcut without more than a request. I thanked the controller on behalf of my mom as well.
As we got closer, it was clear we'd have to shoot another ILS into Asheville, but again, the overcast was fairly high. We also passed along some conditions to an outbound pilot who was trying to thread the clouds VFR. Over this area the clouds were far enough apart that VFR was a reasonable option, unless your airport was under a set of clouds. Asheville was under just such a deck.
The ILS was routine, and we settled in at Million Air to wait for my family to come get us.
Asheville Christmas
This time we spent a few days with my family. We exchanged gifts, saw the gingerbread housed at the Biltmore Mansion, and checked out some dirt track racing. All fun stuff.
Day Four
Asheville, NC (AVL) to Huntsville, AL (HSV)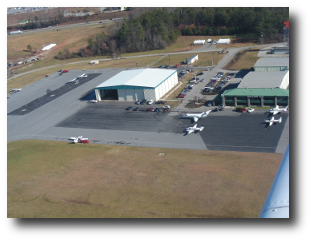 We set out on New Year's Eve, because the weather looked good to cross the country without major weather problems. In order to avoid trying to find a hotel on New Year's Eve, the plan for this day was to head back to Frisco and spend the night with Brenda's family. Some headwinds and other problems would make that less than feasible.
This leg was pretty nice though. The weather was forecast as clear across the whole Southeast and, for a change, didn't have to deal with any frost or bad weather getting out of Asheville. We just taxied out and headed out to our first stop in Huntsville. Unlike last year, I remembered the Huntsville identifier. This day was all VFR flying.
This is pretty country to fly over, as the mountains of the East give way to the plains of the center of the country. None of these are really mountains by the standards of the West, but their old rolling shapes are the mountains I grew up with, and it's always nice to see them again.
Huntsville, AL (HSV) to Little Rock, AK (LIT) Olive Branch, MS (OLV)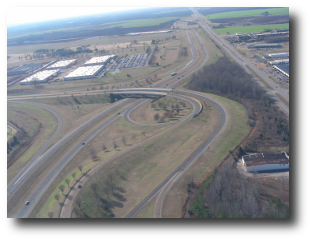 And here my troubles began.
This leg found us passing close to the high pressure system that was giving us the clear skies. Unfortunately, that also meant we were looking at 30-40 knot headwinds. We began to consider not making Frisco.
But first we had the joy of a leaking gas cap. On take-off, I looked over to see fuel streaming down the wing. Not good, but not too much of a crisis. We went around the pattern, landed and went back to the FBO and checked the cap. There was nothing obviously wrong with it, and we hadn't lost much fuel, so we tried again.
This time there was less fuel, but there seemed to be some problem. Once we lowered the nose a bit there was no visible leakage, so I elected to head on to Little Rock and check it out further there.
Man do headwinds suck. We were not making much time at all fighting 30 knot headwinds. And the further along we got, the more the winds picked up. Given the increasing winds and uncertain gas cap, I diverted to pick up more fuel.
The lucky winner was Olive Branch, MS. I got to land in a crosswind of 18 knots gusting to 27, which is always a good time. We've found ourselves unexpectedly at several Mississippi airports, and they've always done right by us. Olive Branch was no exception; we were able to gas up and make reservations at a hotel in Little Rock for the night.
Olive Branch, MS (OLV) to Little Rock, AK (LIT)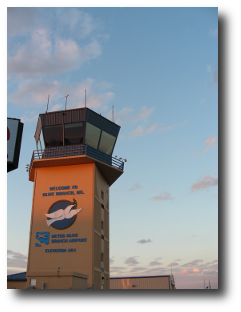 Considering this was the third time this trip we'd set out for Little Rock, it was nice to finally arrive there.
Before we got there, we got to take another look at the fuel cap on take-off, which was no better, but no worse. We had plenty of fuel for this hop, so even if it was leaking pretty badly I didn't have much fear of not being able to make the leg. And it wasn't leaking visibly.
The trip itself was uneventful, other than watching how low our ground speed was on the GPS. The sun set and we inched our way out to Arkansas.
Little Rock itself was having the same high surface winds that Olive Branch had. This time I drew a night landing in 13-22 knot winds 60 degrees off the runway. This was certainly more challenging than most of my landings, but well within my abilities. We didn't have to go around or anything.
We settled in to find food and spend a relatively unfestive New Year's Eve.
Day Five
Little Rock, AK (LIT) to Little Rock, AK (LIT)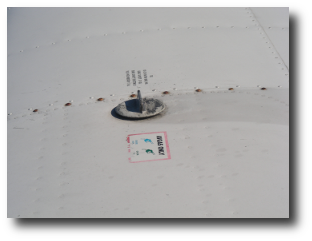 On another blustery day we set out on two hops for El Paso. Sadly the gas cap that had been a niggling problem decided to become a major problem. On departure, the cap no only leaked, but turned 90 degrees and just poured fuel. Given that we had planned several hops across desert parts of America over the next two days, it didn't seem like a good idea to do so with unknown amounts of gas leaking from the tanks.
I really wanted to just take the chance and make the trip, but with the terrain ahead over the next two days (not to mention the headwinds) and the problem obviously getting worse, I really didn't think the situation was safe.
Which brought up another problem: where to get such a thing fixed on New Year's Day. Well, obviously there wasn't a good place. It was clear we needed a new cap (or at least a new gasket) and the shop was closed. Central Flying Service was great about getting us a car and setting up for the maintenance guys to call us the next day. (They would have called them out for a fee, but I really didn't see that helping for this kind of problem.)
The next day I spoke to their parts guy, who reported they had neither caps nor gaskets, but could get either overnight. I opted for the whole cap. The gasket may have fixed it, and certainly been much cheaper, but the possibility of the gaskets coming and not fixing the problem meant another day to wait for the cap. The day was worth more than the cap.
In between discussions with the maintenance people, we spent two days seeing the sights of Little Rock. This was actually a really fun couple days. Brenda blogged it. Everyone in Little Rock was friendly and pleasant, and we got to see and do many fun things.
Day Five, Take 2
Little Rock, AK (LIT) to Denton, TX(DTO)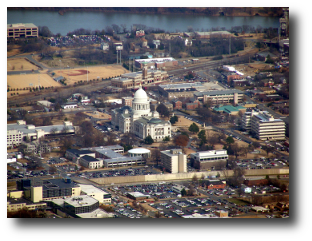 On the 3rd we took delivery of our new gas cap and were back on our way. We got a later start than I would have liked, because we had to wait for the cap, but got a meal at Little Rock. There was still some wind - we were heading into Texas after all, but no appreciable weather to cause trouble. We set out for Denton, TX, VFR.
I wanted to make up some of the time that the wind had cost us, so I'd planned a long (3-leg) day. Bad weather was heading in to California and Arizona, and I was hoping that a combination of it going slow and us going fast would work out.
The leg was pleasant and smooth. No worries for us, but we did hear an airliner having some troubles near Dallas. They were returning to the airport after some on-board problem that didn't sound like a crisis, and the pilots were doing what was necessary to keep it from becoming one.
It was nice to feel confident of our fuel system again.
Denton, TX (DTO) to Midland, TX (MAF)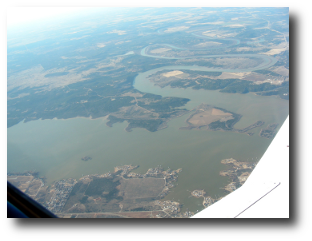 We didn't stay long in Denton. Fuel up, go potty, wash up, grab a drink and back in the air. It was a clean, friendly, well-run airport, but we had weather to race.
The winds were still a-blowing, but better lower so we took advantage of the flat West Texas topography and flew fairly low out to Midland.
Along the way, Brenda was charmed by Possum Kingdom Lake, which is in the thumbnail. There's a picture of the GPS pointing it out as well.
Midland was still full of helpful folks when we arrived, made some calls and set out for El Paso.
Midland, TX (MAF) to El Paso, TX (ELP)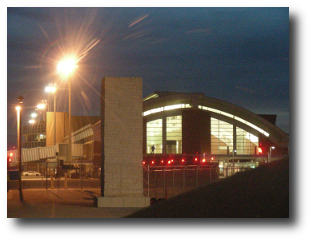 This was a night leg across the West Texas desert. When I fly at night I generally prefer to be IFR and this was no exception.
It was a clear night with little other traffic, and made for a peaceful flight. The leg was a nice ending to a good day.
I was sad to find that the next day's weather looked unflyable. Again, I really wanted to finish the trip and get us all home, but not so much that I wanted to get stuck in some small outpost in Arizona. Or worse.
Reluctantly Brenda and I got a couple seats on a Southwest flight to LAX the next morning. Just looking out the window of that flight the next day, it was pretty clear the conditions weren't flyable in the Archer, so I think I made the right choice.
Day Six
El Paso, TX (ELP) to Goodyear, AZ (GYR)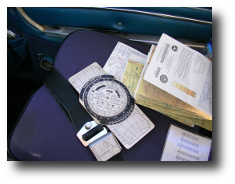 A week later I flew out to El Paso to complete the trip, without my co-pilot. It was sad to have her seat empty, but it was a beautiful day for flying.
It was beautiful but windy. Again, we were fighting headwinds all the way up to Goodyear, though more in the first half of the flight than the second, more northbound, leg.
Given the long leg, and the strong gusty winds, I wanted a clearer picture of our speed than the point values that the GPS was giving me. I dragged out my cardboard E6B and did a couple time/distance calculations to confirm that our sustained ground speed was high enough to complete the leg. While I was definitely keeping a close watch, we continued to make enough progress to keep going.
We completed the leg in about 4 hours, and landed with ample reserves.
Goodyear, AZ (GYR) to Santa Monica, CA (SMO)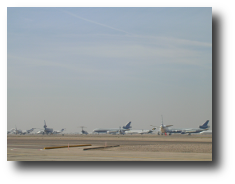 The last leg is always a bittersweet experience. It's both a return home and the end of a long journey. Since I'd really only set out the night before after having been home a week, I didn't have as keen an appreciation of homecoming as I often do, but it was certainly still there.
Conditions remained excellent, and the flight was memorable for the sights rather than the challenges. I did get to see a couple F-16's on my climb-out, and there is always the beautiful desert to watch.
It was good to get 32169 back where she belonged.